Rush theatre is a theatre based company based in Birmingham that offers a two unique shows
Understanding the Client: From the very beginning, it was clear that Rush Theatre Company was an organization fueled by passion and creativity. They possessed a deep commitment to delivering exceptional theatrical experiences and providing a platform for emerging talent to shine. Our initial meetings with the company's  team allowed us to gain insights into their artistic vision, goals, and target audience, which laid the foundation for our design approach.
Design Concept: To capture the essence of Rush Theatre Company's dynamic performances, we aimed to create a visually striking website that would transport visitors into the world of theatre. Our design revolved around an integration of classic theatrical elements and modern web design aesthetics. 
By combining bold imagery, a colour pallete chosen by the client, elegant typography, and subtle animations, we sought to evoke a sense of drama, excitement, and anticipation.
Results and Impact: Since the launch of the new website, Rush Theatre Company has experienced a significant increase in online traffic and user engagement. The visually captivating design have contributed to a higher conversion rate in ticket sales.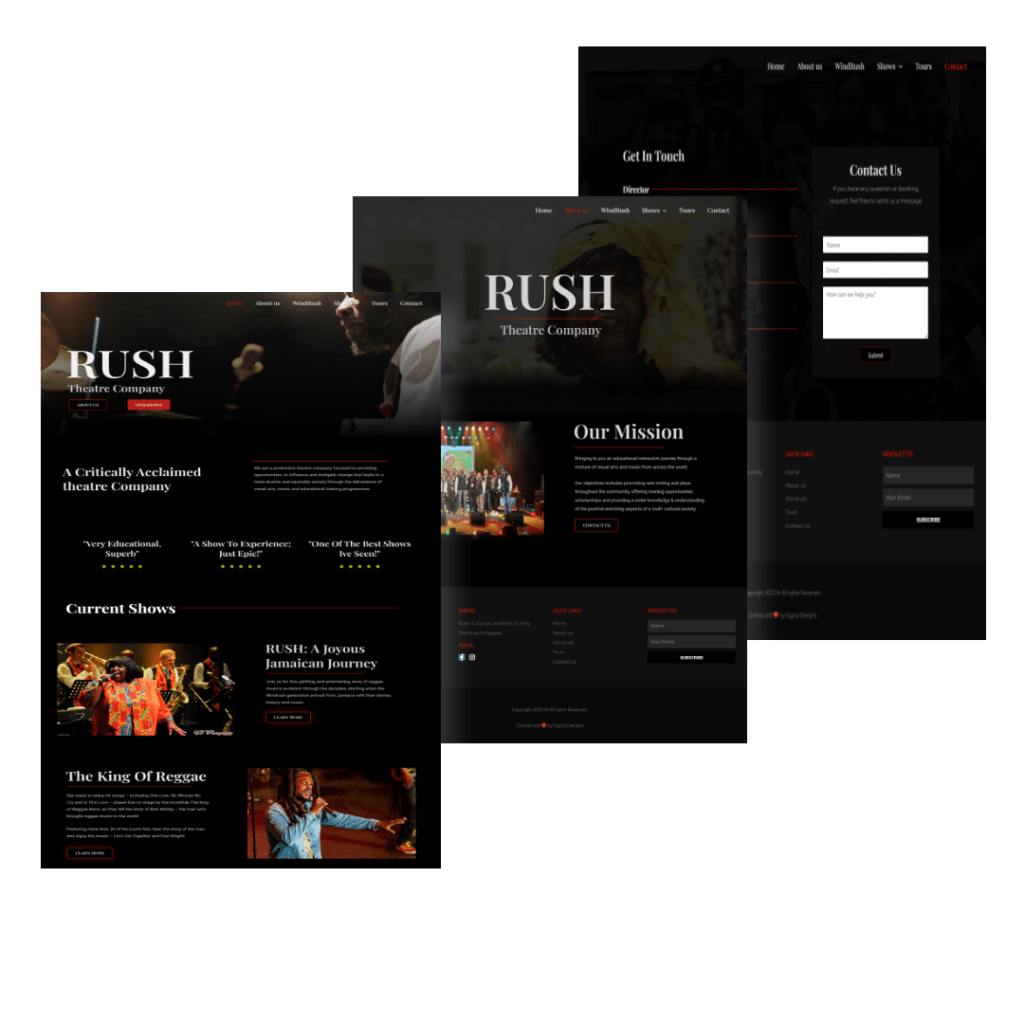 key features and functionality
Captivating Homepage: The website's homepage served as a grand entrance, featuring a dynamic video slideshow showcasing highlights from past productions. This immersive visual experience immediately drew visitors into the captivating world of Rush Theatre Company.
Production Showcase: We designed a dedicated section to showcase the company's repertoire of productions. Each show had its own page, complete with a synopsis. This comprehensive approach allowed visitors to explore and engage with each production, fostering anticipation and encouraging ticket sales.
Engaging Multimedia Content: To truly immerse visitors in the world of theater, we incorporated multimedia elements such as video trailers, behind-the-scenes glimpses, and interviews with cast members. These engaging additions brought the productions to life, providing an enticing and interactive experience for users
Ticket Sales: We incorporated and collaborated with other theatre companies showcasing all of rush theatres shows within the tour section of the website allowing customers to buy tickets directly from the theatre itself. This cut alot of issues that may arise in refunding tickets and other issues that may arise with ticket sales.
I recently had the pleasure of attending a theatre show, and I must say, it was an experience that left me thoroughly captivated and deeply moved. From the moment the curtains rose to the final standing ovation, every aspect of the production contributed to an unforgettable evening of entertainment.