Krafted LTD is an online furniture store that designs and focuses on bespoke furniture for your home.
As web designers, we had the pleasure of collaborating with a bespoke furniture online store, dedicated to delivering unique and personalized furniture pieces that transform spaces. Our goal was to create a website that would showcase the craftsmanship and design excellence of the furniture store, provide a seamless online shopping experience, and inspire customers to create their dream interiors.
Understanding the Client: The bespoke furniture store approached us with a vision to create an online store that would capture the essence of their craftsmanship, highlight their attention to detail, and offer customers a tailored shopping experience. Through in-depth consultations with the store's owners and designers, we gained valuable insights into their design philosophy, target audience, and the unique qualities that set them apart. These insights formed the foundation of our design approach, ensuring the website reflected the bespoke furniture store's brand identity.
Design Concept: Our design concept revolved around creating a visually stunning and user-friendly platform that celebrated the beauty of bespoke furniture. We aimed to showcase the exquisite craftsmanship and attention to detail through a clean and elegant design. The design choices focused on utilizing high-quality imagery, intuitive navigation, and clear product presentation, ensuring visitors could appreciate the artistry and customization offered by the furniture store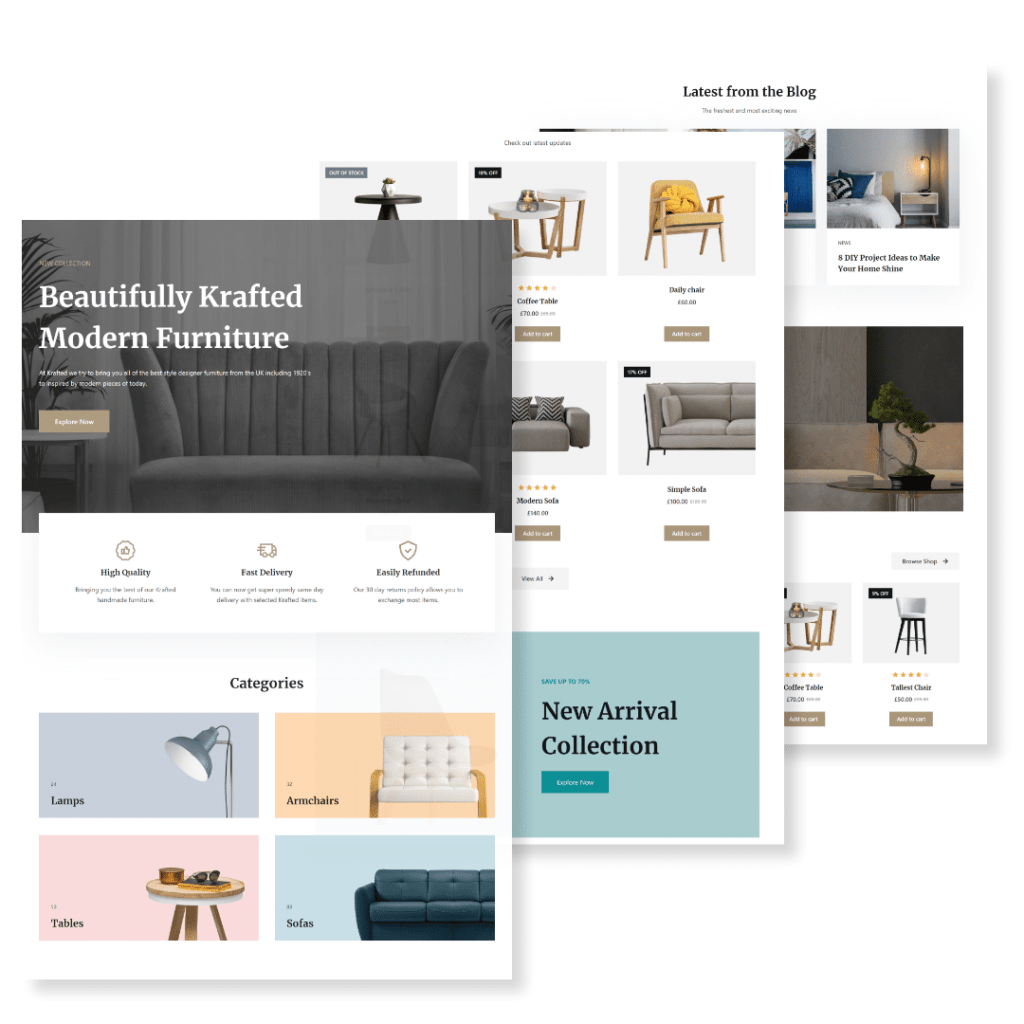 key features and functionality
Striking Homepage: The website's homepage served as a captivating showcase of the bespoke furniture store's signature pieces. Through carefully curated high-resolution images, we highlighted the unique design elements and craftsmanship of their furniture. A brief and engaging introduction conveyed the store's commitment to personalized design and quality materials, immediately capturing visitors' attention.
Product Catalog: We created a visually appealing catalog that presented the store's furniture collections in an organized and user-friendly manner. Each product had its own page with detailed descriptions, high-quality images, and key specifications. The catalog's intuitive filtering and sorting options made it easy for customers to find the furniture pieces that aligned with their needs and aesthetic preferences.
Inspirational Design Gallery: We incorporated an inspirational design gallery that showcased how the bespoke furniture could transform various living spaces. The gallery featured professionally styled room settings, accompanied by descriptions and product links. This feature inspired customers by demonstrating the furniture's versatility and providing ideas for incorporating the pieces into their own homes.
Smooth Checkout Process: We implemented a secure and seamless checkout process, ensuring a convenient and trustworthy shopping experience for customers. Integration with popular payment gateways allowed for smooth and efficient transactions. Additionally, clear shipping and delivery information provided transparency, enhancing customer satisfaction and reducing potential concerns.
What truly sets this furniture store apart is its dedication to customization. The extensive range of options available allowed me to tailor every aspect of my furniture to suit my personal style and preferences. From materials and finishes to dimensions and design features, I felt like a co-creator in the design process.