Krafted LTD is an online furniture store that designs and focuses on bespoke furniture for your home.
Krafted Ltd approached us with a vision to create an online store that would capture the essence of their craftsmanship whilst offering customers a tailored shopping experience. Through in-depth consultations with the store's owners, we gained valuable insights into their design philosophy, target audience, and the unique qualities that set them apart from other furniture stores. These insights formed the foundation of our design approach, ensuring the website reflected the bespoke furniture store's brand identity.
Our design concept revolved around creating a visually stunning and user-friendly platform that celebrated the beauty of bespoke furniture. We aimed to showcase the exquisite craftsmanship through a clean and elegant design. The design choices focused on utilizing high-quality imagery, intuitive navigation, and clear product presentation, ensuring visitors could appreciate the artistry and customization offered by the furniture store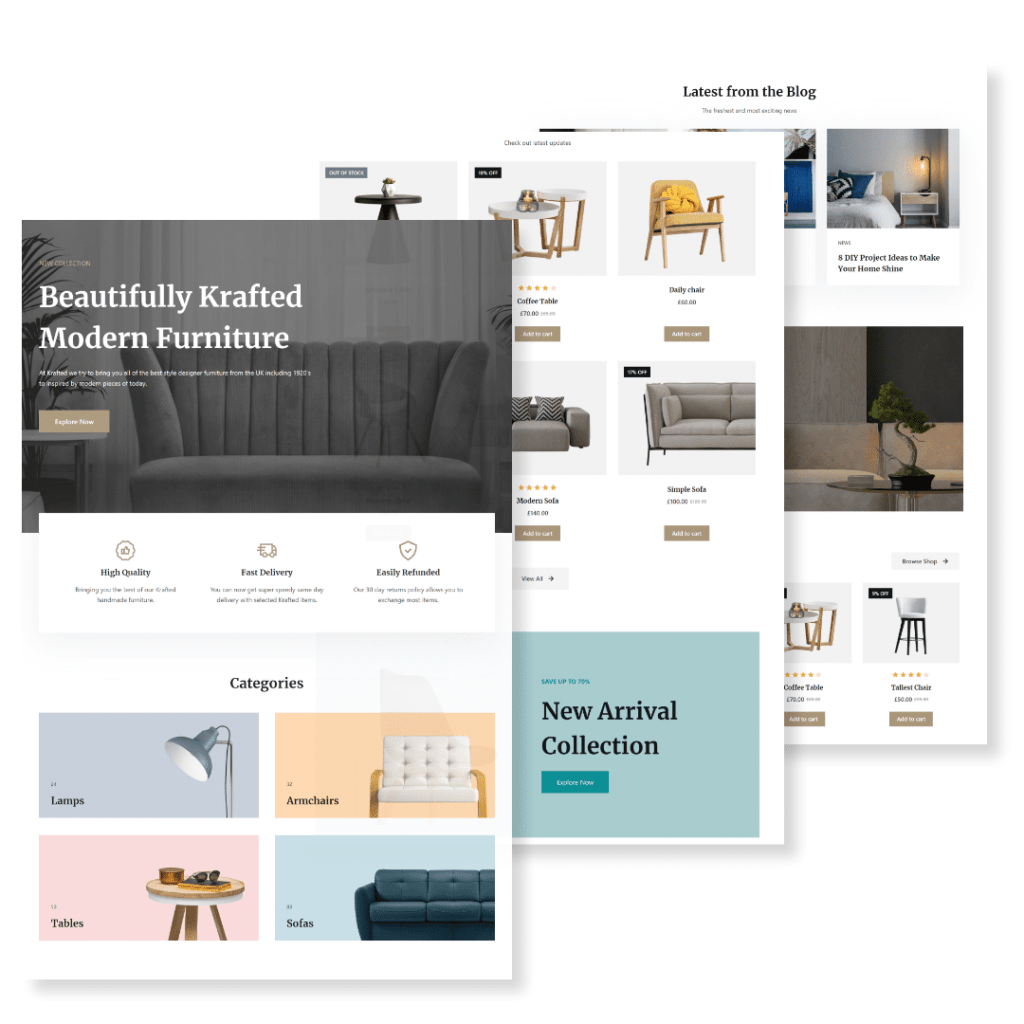 key features and functionality
Striking Homepage: The website's homepage served as a captivating showcase of the bespoke furniture store's signature pieces. Through carefully curated high-resolution images, we highlighted the unique design elements and craftsmanship of their furniture immediately capturing visitors' attention.
Product Catalogue: We created a visually appealing catalogue that presented the store's furniture collections in an organized manner. Each product had its own dedicated page with detailed descriptions, high-quality images, and key specifications. 
Product Filtering: The catalog's intuitive filtering and sorting options made it easy for customers to find the furniture pieces that aligned with their needs and aesthetic preferences.
Smooth Checkout Process: We implemented a secure and seamless checkout process, ensuring a convenient and trustworthy shopping experience for customers. 
Digital Designs has crafted a website for us that fills us with pride. Collaborating with Digital Designs has been a delightful experience; their professionalism and innovative approach made the entire process enjoyable and stress-free for us.
If you are a new customer, you can claim 15% discount on your first website. Send us a message using the code: DIS-15